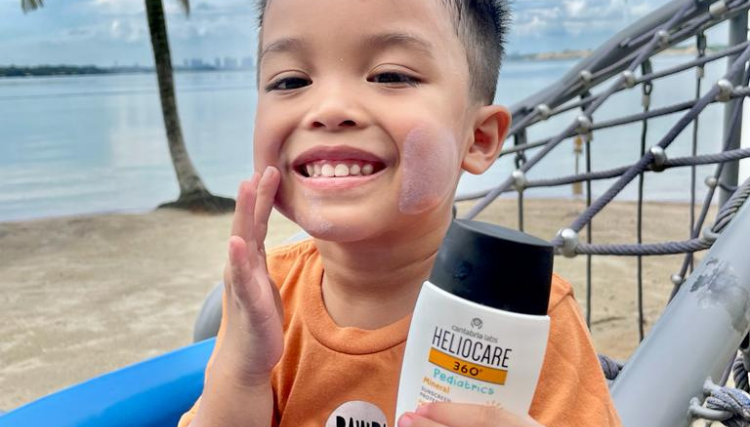 Sunscreen and sun protection are very important for babies and children. Skin cancer is becoming more common in young people. Protecting your child's skin from too much exposure to the sun can greatly reduce this risk. Childhood sunburn has been associated with an increased risk of skin cancer.
What kind of sunscreen is safe for baby?
Some sunscreens are better for your baby than others. Here are a few tips for buying a product that's both safe and effective:

Try to choose a formula that's specifically for babies or children, especially eye tolerance, water & sand resistant, even if your tot won't be getting wet.

For sensitive skin, choose mineral sunscreen with the active ingredients zinc oxide or titanium dioxide.

The label should say "broad-spectrum," meaning it protects against both UVA and UVB rays.

Opt for an SPF of 30 to 50. Experts recommend against products that contain an SPF above 50 so the parents don't have to reapply as often.

Avoid sunscreens containing insect repellents, since they're less effective. If you need repellent (and your baby is older than 2 months and the pediatrician gives you the go-ahead), buy it separately and spray it on only after you apply sunscreen.

Other Ways to Protect Your Child's Skin
Your child can do these things:

Wear hats, sunglasses and other sun-protective clothing

Avoid being outside between 10 a.m. and 2 p.m. when the sun's rays are the strongest

Get Vitamin D safely through a healthy diet. Ask your doctor if you have questions about healthy sources of Vitamin D.
Heliocare 360º Pediatrics Mineral SPF 50+ | 50ml
Fluid photoprotection for children with 100% mineral filters. Heliocare 360º complies with the highest standards of photoprotection, designed for even the most sensitive and problematric skins requiring maximum protection against sun damage. With innovative textures that make it easier to apply throughout the year.
Protects against the 4 types of radiation (UVB, UVA, Blue light and Infrared)
Tested on sensitive and atopic skin from 3 months of age
Highly waterproof and sand resistant, does not irritate the eyes
Suitable for: All skin types especially children with sensitive or atopic skin types.
Heliocare 360º Junior Oral Sticks | 20 sticks
Photoprotection from inside for children
Protects against the 4 types of radiation (UVB, UVA, Blue light and Infrared)
Increases resistance on the skin with antioxidant protection
Nice orange flavour Suitable for: Kids 4 years old & above.