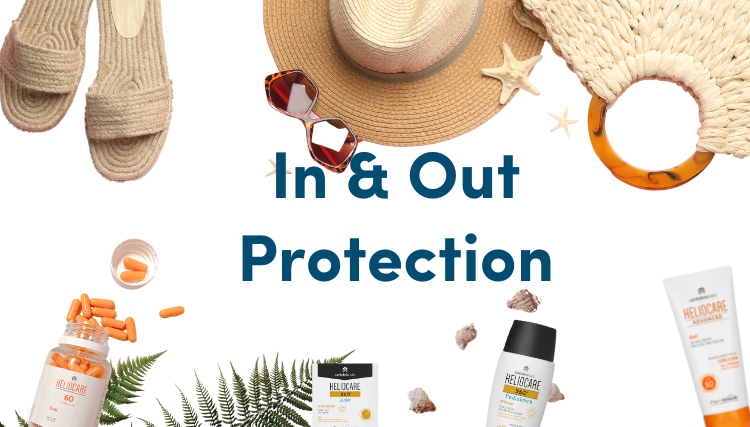 The Importance Of Oral Photoprotection
The importance of oral photoprotection cannot be overstated. Studies have shown that topical photoprotection is often used incorrectly, leading to inadequate protection from the sun's harmful UV rays. To ensure proper photoprotection, it is important to follow these guidelines:

1. Apply photoprotection before going outside, rather than at the site of exposure.

2. Make sure to apply the product evenly and uniformly, covering all exposed skin.

3. Use enough product, at least 2 mg/cm2, to achieve adequate protection.

4. Reapply photoprotection frequently, at least every 2-3 hours and after swimming.

5. Keep in mind that perspiration, water, and contact with clothing or towels can reduce the effectiveness of photoprotection, so it may be necessary to reapply more frequently in these situations.
Daily Photoprotection In & Out:
Heliocare Oral + Heliocare Advanced Gel SPF 50
The best solution to protect your skin on a daily basis
Heliocare Oral is a supplement containing a standardized extract of Polypodium Leucotomos, which has powerful protective, antioxidant, and restorative properties. It helps to increase the skin's resistance to sunburn and prevent DNA damage, while also helping to repair any existing damage.
Formula with Fernblock®, sun filters and repairing and antioxidant active ingredients that protect, neutralise and repair sun damage. Perfect for all skin types, especially combination or oily skin. Does not dry out the skin and leaves no white residue or mask effect.
Kids Photoprotection In & Out:
Heliocare 360º Junior Oral Sticks + Heliocare 360º Pediatrics Mineral
The ideal protection for the little ones
Heliocare 360º Junior Oral Sticks
Indicated for children before intense sun exposure or with sun allergy or atopy. Always combined with topical photoprotection, it also helps to protect those areas where we cannot apply cream (scalp, eyes, ears, etc). Effective from the first use.
Heliocare 360º Pediatrics Mineral
High tolerance formula with exclusively mineral filters. Tested on sensitive and atopic skin from 7 months of age. Its ultra-light, noncomedogenic formula also includes specific active ingredients to care for and moisturise the skin barrier of the smallest ones.