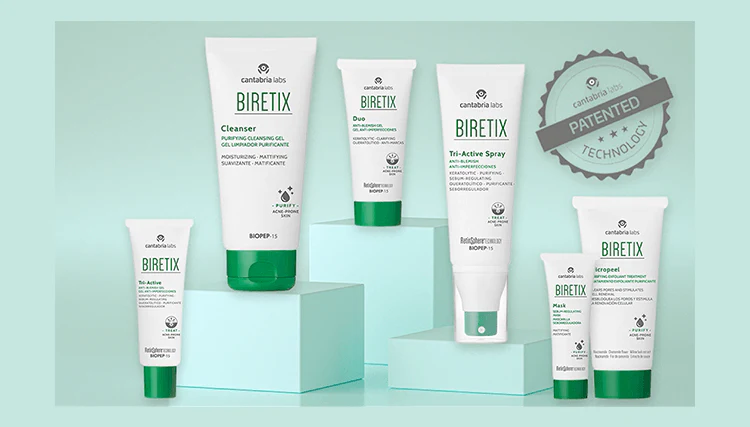 For those with seriously oily and acne-prone skin, or stubborn blackheads that just won't budge, you know that whatever k-beauty face mask your friend introduces to you just won't work on your skin. Well, let us introduce you to Biretix – a skincare brand dedicated to helping oily and acne-prone skin that seriously works. Clinically proven as an acne treatment solution and controlling oil production, Biretix provides scientifically-designed formulations that visibly reduce imperfections associated with acne-prone skin.
The secret to what makes Biretix an effective acne treatment solution lies in its patented RetinSphere® Technology and BIOPEP-15:
RetinSphere® Technology uses a combination of high-tolerance retinoids effective in preventing and reducing the appearance of blemishes, while minimizing the side effects of retinoid use such as irritation, drying and itching.
BIOPEP-15 is a botanical complex used to control bacterial spread, key to treating acne-prone skin. Traditionally controlled with antibiotics, BIOPEP-15 represents an innovative alternative so your body won't develop a resistance to antibiotics due to prolonged use.
Sound intriguing so far? Read on and check out our product range below.
Especially in the case of acne-prone skin, hygiene is important as the first step before embarking on your skincare routine. It's important to deep clean to remove excess oil and dead skin cells, as well as eliminate bacteria that might cause infections, leading to inflamed acne.
Biretix Cleanser is the ideal hygiene cleanser for oily and acne-prone skin. Formulated with aloe vera and natural extracts, this gel cleanser sooths and prevents inflammation, calming the skin while controlling sebum production. The algae extract also gives the skin a mattifying finish.
Pro tip: If you're suffering from bacne (back acne), use this cleanser on affected areas for gentle in-depth cleansing!
Do you know is it important to include moisturizer in your skincare routine? When your skin is dry, it most likely will lead to breakout and oiliness. Moiturizer itself plays a big role for your skin to stay hydrated and calm. It is important to choose the right moisturize your skin type.
Therefore, introducing our moisturizer specially made for oily and acne-skin prone. It is a facial gel specifically designed to improve skin conditions, maintain results even after oral and/or topical acne treatments. Its formula incorporates exclusive RetinSphere® Technology enriched with antioxidant, hydrating and softening active ingredients. It improves the texture of the skin and provides hydration and comfort to acne-prone skin.
Most importantly, it is tested under dermatological control. With our trusted acne care brand, you won't have to worry anything else. Treat your skin with Biretix. 
A gentle daily exfoliating acne treatment, the Biretix Duo reduces blemishes on skin through regulating bacterial growth. Through exfoliation, this anti-blemish gel contains Salicylic acid to stimulate cell renewal which clears pores and prevents the formation of imperfections on the skin. As one of the most well-known ingredients to help improve acne-prone skin, Salicylic acid also helps to regulate sebum production, ensuring that your complexion stays clear.
Biretix Tri-Active Gel
The last of Biretix's Treat line is this silky gel formulation. Biretix Tri-Active Gel is the triple threat to tackle blemished skin. Now introducing the three threats: Glycolic acid, Salicylic acid, and Niacinamide. Glycolic and Salicylic acid contains exfoliating properties to help clear clogged pores to prevent acne formation, while Niacinamide helps to calm the skin while regulating sebum production, keeping oily skin at bay. Dermatological studies show rapid improvement in acne appearance after just 2 weeks of consistent use. This is one powerful acne treatment you cannot miss.
Biretix Tri-Active Spray
The spray counterpart of the Biretix Tri-Active Gel. The Biretix Tri-Active Spray is a rapidly drying formulation that makes it easy to apply on not just your face, but areas on your body that may be affected by acne as well. With the same powerful formulation as its gel formula, this acne treatment spray sooths imperfections while gently exfoliating to remove dead skin cells.
Biretix Micropeel
Acne-prone skin types produce more dead skin cells than normal skin, resulting in a build-up of cells on the skin's surface, clogging up pores and causing blackheads and pimples. This makes exfoliation an essential step in the skincare routines of those with acne-prone skin. Hence, Biretix has come up with a high-strength exfoliating treatment – the Biretix Micropeel.
Composed with Nicotinamide and plant extracts, this gentle exfoliant balances oil production, soothes and minimizes pore size, and stimulates cell renewal. Even better, besides application of up to three times a week for oily skin types, it is also suitable for those with normal skin types as a weekly exfoliating treatment
Biretix Mask
As we all know, clay masks are oily skin's best friend. The Biretix mask is a sebum regulating mask that uses a mix of white and green clay to help combat clogged pores. With clever RetinSphere® Technology, this weekly mask treatment reduces the formation of acne spots and blackheads in problem areas, while helping to regulate excess oil and reduce redness of the skin. For maximum effectiveness, leave the Biretix Mask on for 30 minutes before rinsing with warm water.
Say goodbye to acne and shiny foreheads. All Biretix products are going at 30% off for a limited time only. Head over to our online store to purchase the full range of products.