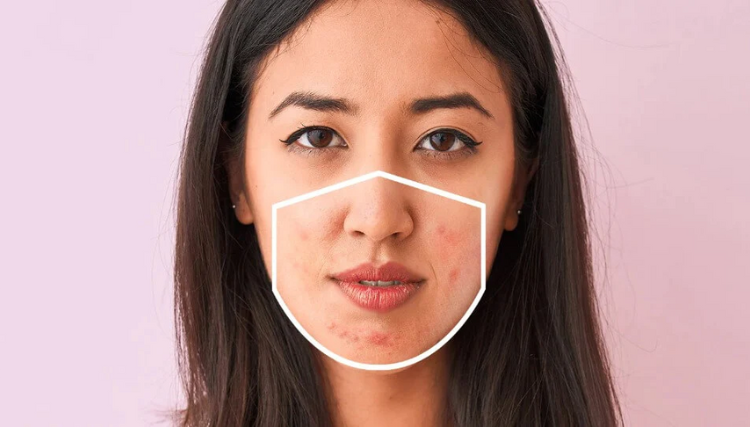 What is Maskne ?
Wearing a face mask has become a norm for everyone which it is an effort to slow down the spread of Covid-19. If you happen to come across the emerge of breakouts, redness and irritation on the lower part of your face from wearing masks, fret not, it is completely normal. This condition is known as "Maskne", which is a side effect of wearing a mask.
How and why does it happen?
Maskne happens when sweat, germs and oil are trapped on your skin while wearing a face mask. All the gunk, plus the humidity from your breathing being in one small and trapped area is not the best thing for your skin to be surrounded by. All that mixed, creates an ideal reproduction ground for breakouts. Does not sound pleasant, huh?
1. Cleanse your face.
Cleansing twice a day is ideal to make sure your skin is always fresh and clean.

What is great about Biretix's Purifying Cleansing Gel is, it does not just clean but removes excess oil, sweat and germs as well. This cleanser does not contain any harsh chemicals, alcohol or perfume, avoiding your skin from getting skin irritation that worsens the acne. Formulated with BIOPEP-15 and enriched with calming and antioxidant active ingredients that removes dirt without drying the skin.

Tested under dermatological and ophthalmological control.
2. Apply sunscreen.
I know you might think, "why do I still need to apply sunscreen when I have the mask to cover my skin from UV rays?". Well, little do you know that UV rays do penetrate through your mask. Applying sunscreen can prevent your skin from aggravating and causing maskne.

We recommend you the Heliocare Ultra 90 Gel SPF 50++. The reason is because our sunscreen is non-comedogenic, which means, it does not clog your pores. Also, it is paraben-free. This sunscreen contains strong anti-microbial and anti- inflammatory properties that effectively reduces acne and improves condition of skin disorders such as atopic dermatitis and beneficial from acne prone skin. The ingredients below which can be found in the product, calms your skin, protects DNA, and lessens the pigmentation.
Protective shields of Heliocare Ultra 90 Gel SPF 50++:
✅ Fernblock Extract
✅ Green Tea Extract
✅ Vitamin E
✅ Phytosphingosine
✅ Photoprotective Technologies
Tested under dermatological control.
3. Spot Treatment.
To those experiencing maskne, we recommend applying a spot treatment like Biretix Duo Anti-Blemish Gel. Spot treatments are great because it targets the area that needs treatment. Do try your best to not pick or pop your pimple as it most likely would lead to scarring and swelling.

This anti-blemish spot treatment reduces and improves first signs of blemish as it is formulated with exclusive RetinSphere Technology and innovative BIOPEP 15 active ingredients at turns down proliferation of microorganisms with combination of vitamin E that helps maintain stability of the skin barrier. Besides that, it controls oil production, corrects imperfection (great for scarring) and improves skin texture.

The Bottom Line
An advice, it takes time to heal but this does not mean you do not need to wear a face mask every time you step out of the house. We got to be responsible citizens and still wear our masks. Take these steps into routine! If you experience worsening of acne, consult a specialist as soon as possible.
Take care, and stay safe everyone.