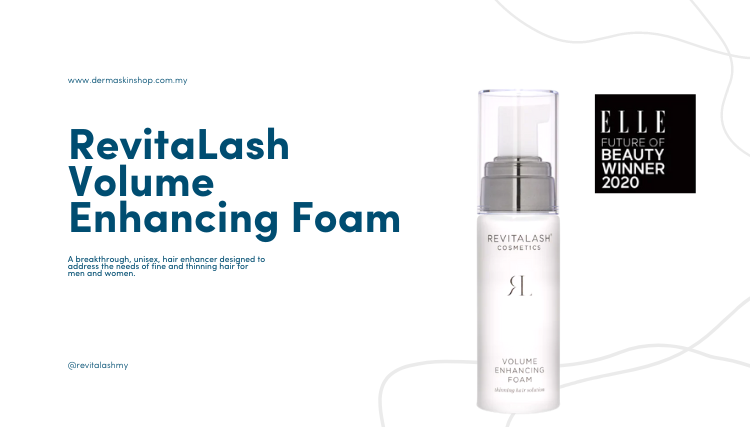 If you've seen what RevitaLash Science can do for your lashes and brows, then you know why we created Volume Enhancing Foam – our hero hair product that uses the same physician-developed technology to address the needs of fine, thinning hair.
This transformative volume enhancer boosts hair's vitality and va-va-voom, and like our best-selling lash and brow conditioners, it features our proprietary BioPeptin® Complex – a breakthrough blend of lipids, peptides, biotin, and panthenol.
The formula is so advanced, it was one of a handful of products to win Elle's Future of Beauty Awards in 2020. And it continues to be a favourite among those in the know who crave more luxurious locks.
Here, we're taking a deep dive into what makes this product a true standout in its category and answering your most frequently asked questions about Volume Enhancing Foam.
Volume Enhancing Foam is a unisex hair enhancer made to condition, strengthen, and soften hair while defending from brittleness and breakage, resulting more beautiful, healthier hair. This physician-developed formula improves hair elasticity and aids in conditioning the scalp, too!
Volume Enhancing Foam addresses the needs of both men and women concerned with fine, thinning, or lacklustre hair.
I DON'T LIKE HEAVY HAIR PRODUCTS. WILL VOLUME ENHANCING FOAM WEIGH MY HAIR DOWN?
Volume Enhancing Foam addresses the needs of both men and women concerned with fine, thinning, or lacklustre hair.
While results will vary, many users notice a difference in their hair from the first use. In an independent consumer study of 33 participants including women and men, after using Volume Enhancing Foam for 8 weeks, 97 percent said their fine hair looked/felt fuller and more voluminous. Ninety-four percent said their thinning hair looked thicker, healthier, and nourished. And 85 percent reported their fine, thinning hair around the hairline looked fuller and was less brittle.
HOW LONG DOES THE FOAM LAST?
A bottle of Volume Enhancing Foam contains approximately a 3.5 month supply when used as directed. How long a bottle lasts will vary depending on hair length and type. For shorter or finer hair, a 'half pump' may be sufficient… extending the number of applications per bottle.
Absolutely. Volume Enhancing Foam works beautifully on its own, and with our Thickening Shampoo and Thickening Conditioner. It can also be used in conjunction with your daily styling products.
WHAT IF I COLOUR MY HAIR?
Volume Enhancing Foam is colour-safe and can safely be used on coloured or processed hair.
Yes, we recommend using the three products in our Volumising Hair Collection as a complete regimen. Our Thickening Shampoo and Thickening Conditioner were designed to work in tandem with Volume Enhancing Foam, transforming hair to feel fuller, look thicker, and perform better. However, Volume Enhancing Foam can be used daily on wet or dry hair, so you may use the product on days you don't wash your hair.